International Summer Schools / Abroad
Students enhance their international experiences with the traditional Summer / Spring / Winter schools of our faculty, which are increasing in number each year.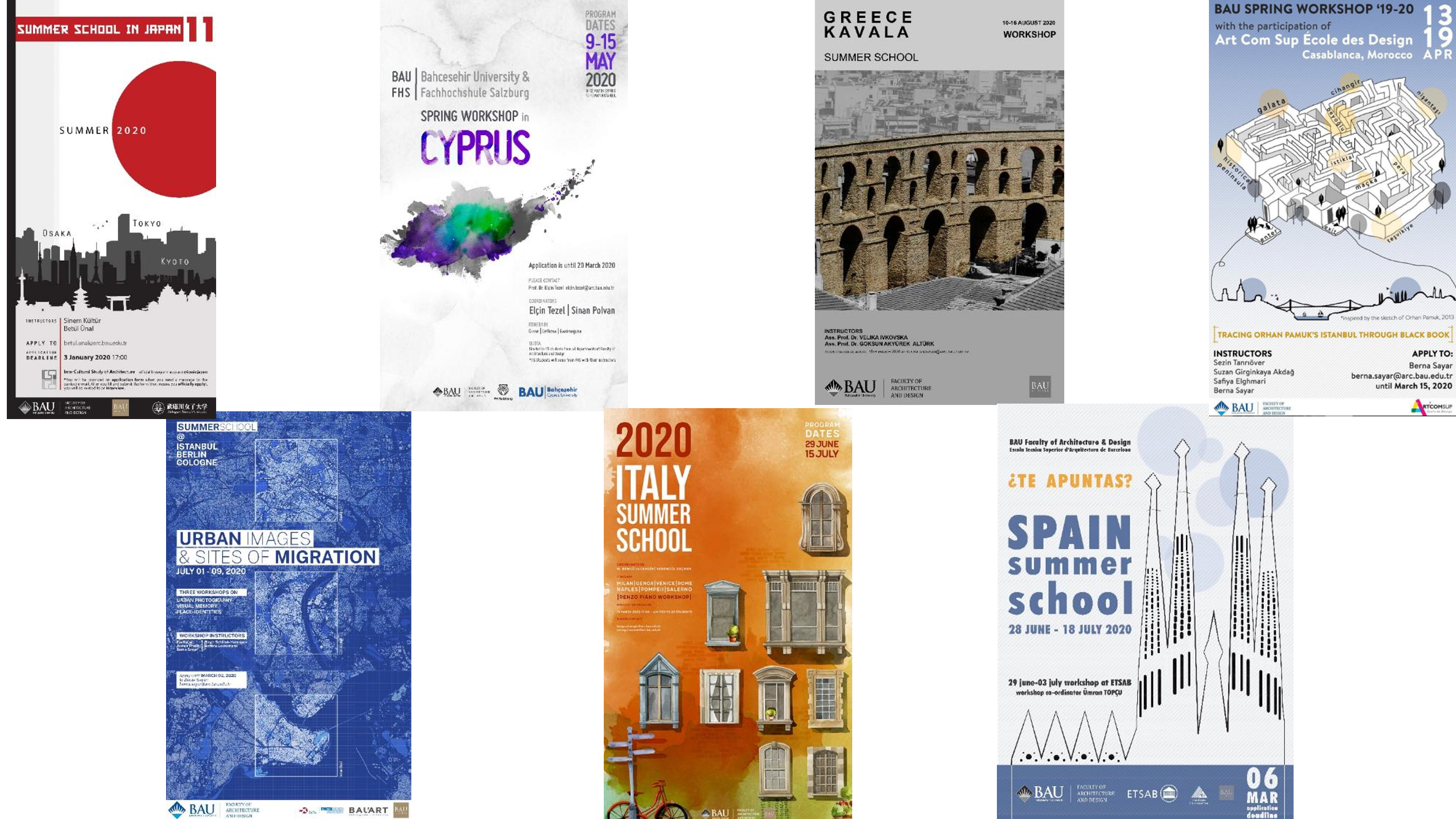 ICSA (Inter-Cultural Study of Architecture) in Japan Summer School
ICSA (Inter-Cultural Study of Architecture) in Japan Summer School is an international exchange program coordinated by BAU Faculty of Architecture & Design and Mukogawa University (MWU) Department of Architecture in Japan, aiming to create an intercultural environment for architectural studio. Held in 2009 for the first time, the program was organized for the 10th time in 2019;, in total, 96 BAU students have participated in Japan under scholarship
Within six week program, ICSA aims to provide students the experience of working out of their usual environment in a studio environment with new setups and architectural concerns in a different country, The studio work is conducted within the scope of the Department of Architecture, ending with a jury and exhibition activities. In addition to architectural studio courses, our students take other theoretical and applied courses as well in subjects such as the traditional Japanese art of flower arranging and traditional interlocking wooden joints.
In addition to the academic studies, another objective of this program is to create environments for students to grasp this culture in a better way through planned trips and social events within the scheduled time in Japan, including technical trips to the cities of Osaka, Kyoto, Kobe, Nara, Hiroshima, and Tokyo. In this way, important examples of both traditional Japanese architecture and contemporary buildings designed by world-famous Japanese architects can be experienced on site and within their context.


Social media accounts
https://www.instagram.com/icsainjapan/
https://twitter.com/icsainjapan
Related web sites
http://www.mukogawa-u.ac.jp/~itcs/ICSAinJapan/ICSAinJapan.html
http://www.mukogawa-u.ac.jp/~arch/event/icsainJapan/ICSAinJapan2012
Italy Summer School
Italy Summer School is held in cities of Italy that are prominent in terms of classical and contemporary architecture. The school runs for a period of two to three weeks and comprises indoor/outdoor courses, site visits, sketching sessions, and studio work. Students' visual works produced throughout the school are exhibited in Italy on the last day and afterwards in BAU Faculty of Architecture & Design.
Italy Summer School provides architecture and design students an opportunity to visit and explore historic Italian cities where identity is the reflection of continuity and develop a methodology for critical thinking towards the understanding of contemporary architecture and urban planning.

Italy Summer School Photos
Spain/BCN Summer Program & ETSAB Workshop
BAU Faculty of Architecture & Design values the idea that extracurricular activities feed architectural education. Cultural trips and design workshops are seen as a tool for developing education and establishing new cultural bonds. Within this framework, Spain Summer Program initiated a design workshop in cooperation with UPC ETSAB (Polytechnic University of Catalonia - Barcelona School of Architecture) in 2013 which has been continuing ever since.
Among the reasons for this initiation in 2012 were "Catalan modernism" as they call it—the architecture movement of which Gaudi is one of the leading architects—the attention that Barcelona drew with its urban renewal and hosting the Olympics, and also the personal efforts of two academicians from BAU and UPC. Each year, the workshops are organized under a new topic and are reinforced with visits to museums and architecture offices. Approximately 15-20 BAU students participate in each workshop. The program can further be described with the notions of observation, research, a living laboratory, local and global experiments, and sensitive and creative sharing within international student groups.
*
FLORENCE Summer School
Florence Summer School has been held by Bahçeşehir University, Faculty of Architecture and Design since 2004. This three week summer school, including stays in Rome,Venice, and Florence, introduces students to the Renaissance concept of space. Participating students get the chance to enhance their ability in watercolor and sketching techniques through the Water-Color Workshop they attend in Florence for three full days. The summer school also includes daily trips to surrounding sights such as Pisa, Siena, San Gimignano, Assisi, and Milan. Students also develop conceptual projects on site that vary in scale and subject from year to year.
---
BERLIN Summer School
In collaboration with RWTH Aachen University and sponsored by the DAAD (the German Academic Exchange Service), we have developed an exchange program that includes seminar courses, excursions, and workshops in both Turkey and Germany. The main objectives of this program are to understand the processes of urban restructuring and redevelopment in German cities after World War II and to explore new approaches in architectural design that have emerged during these processes.
---
ICSA-Inter Cultural Study of Architecture
ICSA (Inter-Cultural Study of Architecture) is an international summer school course held twice a year in Japan and Turkey with the participation of Japanese and Turkish students under the collaboration of Mukogawa Woman's University and Bahçeşehir University. The main purposes of this course are to provide students with the opportunity to experience unfamiliar design processes and observe the role of "cultural interaction" in a design studio education. This program also aims to create a greater awareness of significance of cultural background in the design developing process.
---
BALTIC Summer School
Held in cooperation with RISEBA (Riga International School of Economics and Business Administration), the Baltic Summer School program is organized to share information and academic experience between the Faculties of Architecture and Design in Bahçeşehir University and in RISEBA. The program offers field trips in Riga and in other prominent cities of the Baltic region in order to enhance students' awareness of urban life and culture. In the following semester, students arrange an exhibition comprised of their works, photographs, sketches, and impressions made during the summer school program.
---
KAVALA Summer School
Held in collaboration with Kavala Mehmet Ali Paşa Foundation, Kavala Technical Trip's main aim is to analyze the historical Mehmet Ali Paşa Soup-kitchen, which today serves as "İmaret Hotel". At the same time, students will examine and document through sketches and photographs the Kavala Castle that was restored in Suleiman the Magnificent's period, the Aqueduct, and historical urban texture surrounding the castle.
---
MACEDONIA Summer School
The international summer school, "architecture is (all) about people" is held in Macedonia with students from the host school, the Faculty of Architecture at St. Cyril and Methodius University of Skopje, and visiting students from the Faculty of Architecture and Design at Bahçeşehir University of Istanbul. During the summer school, lecturers from different universities are invited to offer criticism and lectures. Students form different study groups under the guidance of mentors from the St. Cyril Methodius University and Bahçeşehir University. The summer school also hosts a workshop in the northeastern town of Kriva Palanka, where each group explores the everyday life through different media and chooses a site to perform an intervention.