Future Campus - Transportation
SHUTTLES FOR OUR STUDENTS' TRANSPORT TO FUTURE CAMPUS
Student shuttles running between Beşiktaş and Kemerburgaz will start operating as of Monday, October 3, 2022. Shuttles will be provided by Gürsel Tourism

.
Shuttle fee can be paid on the busses by Istanbul Cards that are registered by Gursel Turism.
Please click here to see the shuttle pick-up location.
Please click here to transfer credits to your Istanbul Card.
Shuttle Schedule:
| | |
| --- | --- |
| Beşiktaş (Pier) Departure | Kemerburgaz (Campus) Departure |
| Between 08.15 and 08.45 | 15.30 |
OTHER OPTIONS PROVIDED FOR OUR STUDENTS' TRANSPORT TO FUTURE CAMPUS
The IETT bus lines, which were put into operation to provide easy and comfortable transportation to Future Campus for Bahçeşehir University (BAU) students, now also serve as a ring service. The new transportation route to the Campus is located between Kemerburgaz Pirinççi Yolu stop and BAU Future Campus. The bus carrying 48U route code will be departing every 30 minutes and will be reserved for BAU students only.
In the agreement drawn with IETT securing students' safe arrival at the Campus, students will be able to reach the campus area directly from the stop they get to boarding 13 different lines, with the 48KM coded ring line.
The itinerary of the 48U Coded Bus Line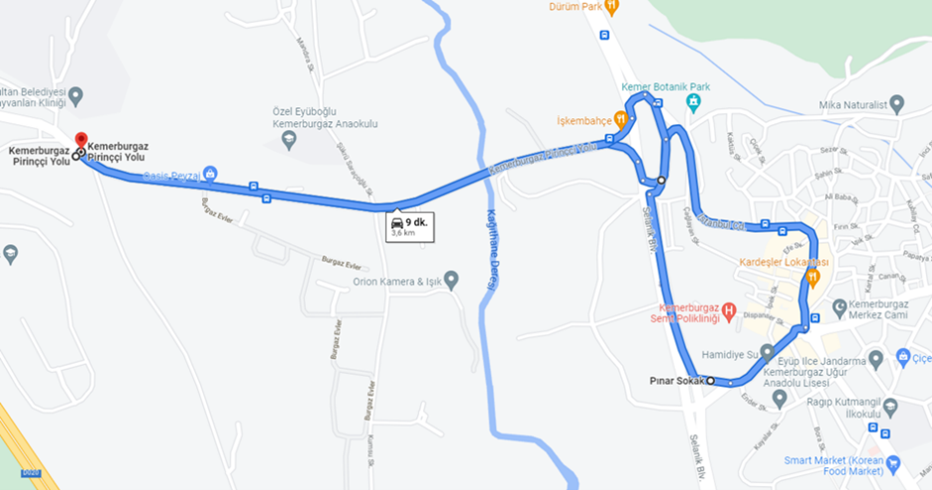 GETTING TO BAU FUTURE CAMPUS BY BUS
Direct transportation to the campus is provided by IETT bus lines specified below, which depart from different points on the European side of Istanbul and halt at Bahçeşehir University Kemerburgaz Campus bus stop. The specified lines proceed along the stop located right in front of the Kemerburgaz Campus.
48U Bahçeşehir Üniversitesi – Kemerburgaz (Proceeds along the stop located right in front of the Kemerburgaz Campus)
48G Göktürk – Mescidi Selam (Proceeds along the stop located right in front of the Kemerburgaz Campus)
GETTING TO BAU FUTURE CAMPUS BY METRO
Negotiations have been going on to increase the frequency of IETT services numbered 48U, which operate between Kemerburgaz Metro station and our campus as of February 06, 2023. This line has been planned to enter our campus and complete its tour from the dormitories area so that our students do not suffer. Depending on the passenger density, the number of trips made every 40 minutes can become as frequent as every 15 minutes especially at the start and end time of the lessons.
In addition, the 48U line stop has been moved directly to the metro station exit, and our students will be able to get on the bus from the small area in front of the metro station after they exit the metro. It is informed that the closed bus stop will also be completed soon.
BUS LINES USING "PİRİNÇÇİKÖY YOLU" BUS STOP (Please click on the bus lines to see further details)
48 GÖKTÜRK - MECİDİYEKÖY
48A GÖKTÜRK - KAZLIÇEŞME
48D GÖKTÜRK - HACIOSMAN METRO
48E GÖKTÜRK - EMİNÖNÜ
48K KEMERBURGAZ - AĞAÇLI KÖYÜ
48KA KEMERBURGAZ - ARNAVUTKÖY
48L GÖKTÜRK - 4.LEVENT METRO
48P KEMERBURGAZ - AKPINAR KÖYÜ
48U BAHÇEŞEHİR ÜNİVERSİTESİ – KEMERBURGAZ
50G GÖKTÜRK - ALİBEYKÖY METRO

The IETT Mobile Application, which readily transmits information on Istanbul Public Transport facilities, can be downloaded from the link below: