Future Campus - Transportation 2
GETTING TO THE BAU FUTURE CAMPUS WITH SHUTTLE
You can now use your Istanbul Kart on paid student shuttles.
Our students can use the shuttle service at the following times.
Please click here to see Beşiktaş Shuttle Point of Departure
BEŞİKTAŞ DEPARTURE

KEMERBURGAZ CAMPUS SQUARE DEPARTURE

09.15

15:45
Gürsel Transport contact number: +90 533 426 53 33
OTHER OPTIONS PROVIDED FOR OUR STUDENTS' TRANSPORT TO FUTURE CAMPUS
The IETT bus lines, which were put into operation to provide easy and comfortable transportation to Future Campus for Bahçeşehir University (BAU) students, now also serve as a ring service. The new transportation route to the Campus is located between Kemerburgaz Pirinççi Yolu stop and BAU Future Campus. The bus carrying 48U route code will be departing every 30 minutes and will be reserved for BAU students only.
In the agreement drawn with IETT securing students' safe arrival at the Campus, students will be able to reach the campus area directly from the stop they get to boarding 13 different lines, with the 48KM coded ring line.
The itinerary of the 48U Coded Bus Line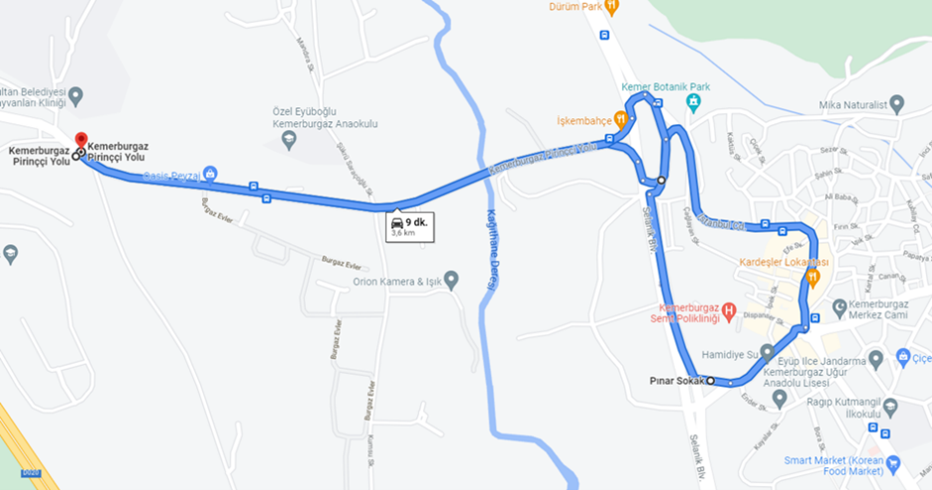 Alongside the IETT ring line, there will be a shuttle service between the Future Campus and Kemerburgaz Pirinççiköyü Stop to facilitate the transportation of our students.
GETTING TO BAU FUTURE CAMPUS BY BUS
Direct transportation to the campus is provided by IETT bus lines specified below, which depart from different points on the European side of Istanbul and halt at Bahçeşehir University Kemerburgaz Campus bus stop. The specified lines proceed along the stop located right in front of the Kemerburgaz Campus.
48G Göktürk – Mescidi Selam
48L Göktürk – 4. Levent Metro
48A Göktürk – Kazlıçeşme
48E Göktürk – Eminönü
GETTING TO BAU FUTURE CAMPUS BY METRO
Ring services will also be provided between Hasdal Metro Station and BAU Future Campus.
BUS LINES USING "PİRİNÇÇİKÖY YOLU" BUS STOP (Please click on the bus lines to see further details)
48C KEMERBURGAZ – ÇİFTALAN KÖYÜ
48P KEMERBURGAZ - AKPINAR KÖYÜ
48Y YEŞİLPINAR - GÖKTÜRK

The IETT Mobile Application, which readily transmits information on Istanbul Public Transport facilities, can be downloaded from the link below: