My Campus My Workplace COOP
The "CO-OP Education Model" established by Bahçeşehir University was initiated by Bahçeşehir University (BAU) 12 years ago and its goal is to combine higher education with business life and fill the gaps between the business world and the university. Our CO-OP students have the opportunity to gain work experience by actively participating in the business life while continuing their university education. In the
CO-OP & Career Center studies, studies are carried out to support our students' career development in the process from the beginning of school to their graduation and to find their suitable area by getting to know themselves. With the different and innovative applications, our students are given the opportunity to experience business life and meet professionals from the business world.
Students who study / will study in the Department of Management Engineering can also benefit from the opportunities provided by COOP. In this regard, 277 students from BAU Management Engineering between 2013-2019 have found internship opportunities thanks to COOP and gained experience in the business world.
The different companies that our internship students have worked are given in the graphic below. There are also companies such as Koç Finans, EnerjiSA, DHL, Samsung, Microsoft and Turkcell in the "other" part of the companies given in the chart.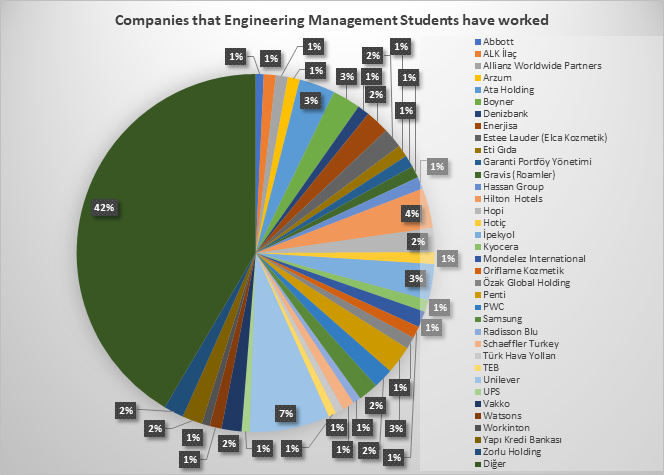 The fields that engineering management students have work may also be seen in the graph below.