About Vaccination Cards, HES Code and PCR Tests
Dear Students,
In line with the statements of the Presidency and with the start of the academic year at our University, a vaccination card or a negative PCR test procured within the last 48 hours is requested at the entrance of the campuses as of 06 September 2021.
As of August 26, 2021, a vaccination center for the public, students and staff will be established in our university in cooperation with the Governorship and the District Health Directorate.
Your information is greatly appreciated
Make sure that the Risk Status, Vaccine Status, Disease Status and Test Status fields under the HES code settings section are available for sharing.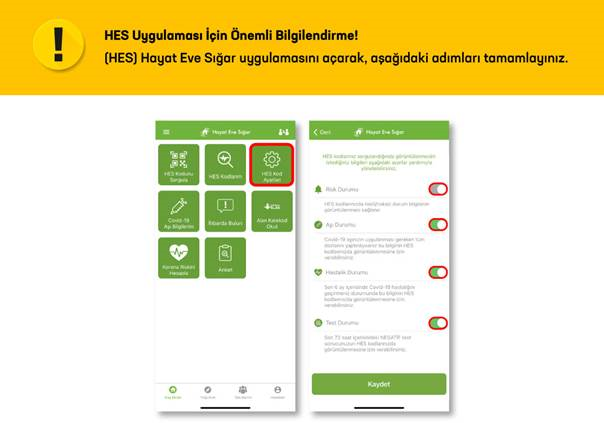 Before you enter any campus including exam days, HES (Hayat Eve Sığar) mobile application needs to be installed and updated on your mobile devices so that whether you are eligible to be admitted in the campus or not can be checked by the security. Please pay attention to the points mentioned above in order not to have any difficulties on the exam day.