Important Information About New Measures Taken Due to Pandemic Process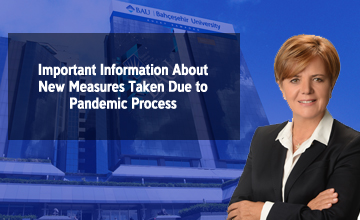 Dear Students,
Important information was given about the new measures taken due to the pandemic process by Bahçeşehir University Presidency. You can access the information from the link below.
https://bau.edu.tr/haber/16261-pandemi-sureci-dolayisiyla-yeni-alinan-onlemler-hakkinda-onemli-bilgilendirme
In this context, the following decisions were taken in the period between 18 November 2020 and 31 December 2020. [These decisions may be changed in the future depending on the studies of the Scientific board regarding the pandemic process and the explanations and directions from the Higher Education Council (YÖK).
Until 31 December 2020, all educational activities, student activities, student club activities, conferences, panels and meetings will be taken online.
All applied courses and laboratory studies that started as hybrid will continue online until 31 December 2020.
All exams will be held online, as stated before.
All our campuses will be open. Based on the decision of the Presidency; students under the age of 20 will be able to benefit from the physical facilities of our university by declaring their HES code between 13:00-16:00. Students who fall outside the age criteria will be able to use the campuses all day long.
BAU Barbaros Library will continue to serve only to Bahçeşehir University students.
All cafeterias and restaurants on the campus will suspend their services until 31 December 2020.
For the period after December 31, you will be informed about the evaluations of the Scientific Committee and YÖK.
As the Faculty of Health Sciences, all our work continues without slowing down so that you are at least affected by the epidemic and that you can continue your education.
For us, your health is important. Please follow exactly the rules described. Do not go out unless you have to. Don't say "Nothing will happen to me." If there is a change in your health situation, please inform us as soon as possible. You can be sure that our university will be with you with all its facilities.
This process we are going through will definitely return to normal one day. Mankind has survived many episodes throughout its history. It will also survive this. We hear good news about vaccination studies. I believe that these studies will result in a positive way. Do not despair or worry. As I have told you several times before; you can turn some seeming disadvantages into your advantage. Do your work/hobbies that you have never had the opportunity to do at home before. Remember to exercise for at least 30 minutes every day and don't stop listening to music.
In order not to compromise our education quality, all employees of the Faculty of Health Sciences will continue to work uninterruptedly. As all faculty employees, we will be in contact with you 7/24 on our university's online platforms (itslearning, MS Teams, etc.). Please inform us about all your problems and requests through your advisors. We will get back to you as soon as possible. If you are in a very difficult situation and there is an emergency, you can also call me directly from my personal phone number 05322739070.
We love you very much. I wish healthy days to you and your precious families.
Prof. Dr. Fatma Eti ASLAN
Dean of the Faculty of Health Sciences